National Library of Wales reopens to the public after fire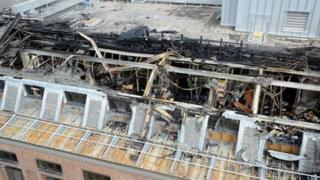 The National Library of Wales in Aberystwyth has reopened to the public three days after a roof fire broke out.
Pieces of a historic collection damaged by water after Friday's blaze were moved to Oxford by a team of salvage experts at the weekend.
An investigation is under way after a section of roof on what is known as Building Two was destroyed.
The Welsh government's culture minister has pledged to support the library at a "difficult period".
John Griffiths said he would visit the site on Thursday, to see the damage for himself and to initiate discussions on how the Welsh government can support the library.
'Rich heritage'
"The library is one of our most treasured national institutions and I would like to assure the library of my ongoing support through this very difficult period," he said.
Mr Griffiths said damage is restricted to "items in the immediate vicinity of the incident and indications are that the damage is limited and that the majority of items affected can be recovered".
He thanked fire crews and staff who had worked to "safeguard the rich heritage of our nation".
Library officials said they had received messages of "concern and support" from all over the world.
The institution was closed on Saturday and Monday as clearing up and investigations got under way.
The fire affected an area largely used as office space and for new acquisitions.
But water used to fight the flames had leaked through five or six floors, damaging some historic items.
'Full service'
On the library's website Arwel Jones, the director of public services, said: "I'd like to emphasise that it is business as usual for our readers, users and visitors.
"On Friday we had to take precautionary steps to postpone a number of events over the weekend, but we are now confident we can offer a full service to users."
"I would also like to thank all those, from all over the world, for their concern and support. It means a lot to the staff and board," he added.
Up to 300 staff and 100 visitors were led to safety when the alarm was raised on Friday afternoon. It took 50 firefighters nearly four hours to bring it under control.
Workers had been repairing the roof near to where the fire started, but the library has said it is "not in a position to draw any conclusions from this".
Reports from the scene suggested a 100ft (30m) section of roof was destroyed.