Ceredigion cuckoo takes European holiday to avoid UK weather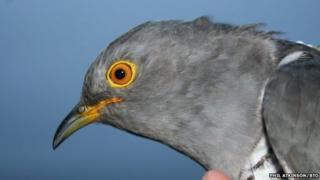 A cuckoo returning to Ceredigion from migration in Africa has taken a holiday in France to avoid the UK weather.
David the cuckoo returned to the UK from the Democratic Republic of the Congo last Friday but turned back on reaching Somerset.
Bird experts say he could either wait until the weather warmed up or take a short European break.
Five Welsh cuckoos were fitted with satellite tags in May 2012 to monitor their migration paths.
'Caterpillar experts'
The five birds - Idemili, David, Iolo, Lloyd and Indy - left Ceredigion in spring 2012 for Africa. They travelled over East Anglia, through Holland, Germany and Italy before reaching North Africa.
The main reason for the journey is the hunt for their main food source: caterpillars.
The birds bypass the dry climates of northern Africa because caterpillars cannot survive there, and head for the wetter countries of Cameroon and the Democratic Republic of the Congo where caterpillars thrive.
"The cuckoos are caterpillar experts", said Paul Stancliffe, a spokesman for the British Trust for Ornithology (BTO).
"Fatty caterpillars fuel their flight. The birds store the fat on their throat, in the loops around their stomach and on their flanks and thighs", he said.
'Sound of spring'
The cuckoo population declined by 27% in Wales in the decade up to 2009 compared to 49% in England and 9% in Scotland.
"Cuckoo populations are declining rapidly in some parts of Britain: we want to find out why", said Dr Chris Hewson, who led the tagging project for the BTO.
"Cuckoos only spend two months in the UK and 10 months elsewhere, so this is how we can find out what is happening to them.
"They are the sound of spring and the sound of the British countryside. They are a culturally resonant bird and people care about their conservation."
The project has been running for two years in England and Scotland, starting in Wales last year. The £2,500 trackers transmit for 10 hours, then have a 48 hour break to recharge.
David flew over north-western Spain last Wednesday, crossed the Bay of Biscay and flew to Yeovil, Somerset, on Friday.
After finding the weather in Yeovil unbearable he turned back across the English Channel and arrived in Bois, France, on Saturday.
"This is the first time we have observed this," said Mr Stancliffe.
"We have suspected that birds turn to Europe if the UK is too cold, but we have never seen it.
"We have always wondered, if it is too cold or wet when they arrive, do birds lay low until it warms up, or do some birds head back across the channel and wait there? Now we know that some do return to Europe."
Dr Hewson said that this was the first time that reverse migration had been tracked.
"Before the project we knew about reverse migration but only anecdotally," he said.
"People would say they would hear cuckoos one day, then they would disappear ... now we know that this is true."
Only two of the five tagged Welsh birds are still traceable. Indy survived a storm in Libya and after spending two weeks resting in northern Italy is thought to have been eaten by predators in Congo.
Iolo died crossing the Sahara last Autumn.
Idemili, from Carmarthen, was flown on a British Airways flight to Turin in 2012 after spending a few weeks in hospital in Essex.
Lloyd had crossed most of Sahara and was last located in southern Algeria heading toward the Mediterranean.
Last year Scottish cuckoo Chance flew back to Loch Katrine after migration.
The BTO are still waiting to see if David and Lloyd finally come back to Ceredigion.