Crow's nest built on yacht mast in Aberystwyth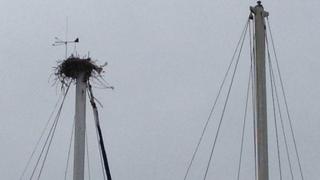 A family of crows has taken the nautical term crow's nest literally and built a home on top of a yacht's mast at Aberystwyth marina.
Staff there said the birds started building their nest a few weeks ago and it had recently survived strong winds.
Yacht owner Mick Fothergill said he felt privileged the crows had chosen his vessel from the dozens of others moored at the marina.
"I'm happy for them to raise their family on my boat," he said.
But Mr Fothergill joked he would take the nest down once the crows' young had fledged because he feared looking ridiculous out at sea with a real crow's nest on his mast.
"I went down to the marina a few weeks ago and I saw a few twigs on top of the mast," he said.
"I went down a few weeks later and they had built a complete nest.
"I feel quite privileged really - there are 50-odd boats in the marina and they've chosen mine to build on. I think I know why - there's an aerial platform up there."
Marina manager Mike Harris said he had seen ducks nesting on boats but he had never seen a real crow's nest on a mast.
Mr Harris said: "Mick Fothergill, whose house was damaged by the floods in Talybont last year, owns the boat. I said to him: 'It's all happening to you, isn't it?'
"There's a couple of young in the nest. It's been quite windy but the nest seems secure - they're good quite good at building these things."
Mr Fothergill's home was one of many flooded in nearby Talybont during torrential rain in north Ceredigion last June. He and his wife moved back into their renovated property a few days ago.