Monty the osprey of Springwatch fame returns to Dyfi reserve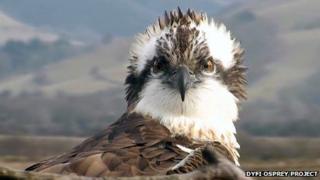 An osprey who became popular with BBC Springwatch viewers in 2012 is back in mid Wales and is waiting for his partner Nora to return from Africa.
Monty, or Maldwyn in Welsh, has been tidying the nest they share at the Dyfi Osprey Project near Machynlleth.
He and Nora have raised four chicks at the Cors Dyfi reserve but she has yet to arrive back home.
Meanwhile a goshawk in a south Wales forest, one of only 500 breeding pairs in the UK, has laid her first egg.
In mid Wales, Monty had his first full weekend at home since returning to the reserve.
Wardens say the returnee was able to go fishing despite it being windy and he continued with his nest renovations.
Monty became a hit with Springwatch viewers as he and Nora struggled to raise their second brood through the bad weather of 2012.
One chick died soon after birth and contact has since been lost with the other two who fledged the nest and made their way abroad on migratory routes.
Warden Emyr Evans is hopeful that Monty and Nora's older first chick Einion will also return to the area if only to scout for a suitable habitat for himself and a partner next year.
But Mr Evans said all their eyes are upwards to see if Nora will find her way home and pair up again.
He said: "The wind is favouring migratory birds now so she could be on her way."
"The easterly winds have held up a lot of migratory birds, not just ospreys. Swallows, martins, warblers, they've all been caught up.
'Weather conditions'
"The weather has been changing in the last few days so hopefully that means she is on her way.
"The conditions now are good for the ospreys to return."
The project funded by Montgomeryshire Wildlife Trust had around 40,000 visitors last year to watch the live web stream from the nest.
A fourth camera and a microphone have been added this year.
In south Wales, staff at Cwmcarn Forest Visitor Centre near Newport can already boast one new egg by their rare bird.
Once close to extinction, goshawks are known as "the phantoms of the forest" because of their elusiveness despite their size.
A pair dubbed Genevieve and Fred has made their home in a larch tree in the forest.
'Taste for squirrels'
Since 2011 their home life has been watched via a "nest cam" and on Monday viewers saw Genevieve lay her first egg of 2013.
Spokesperson Anna Gambarina said: "We don't know how many she's going to lay. Last year she laid five but only two chicks survived.
"Thanks to images provided by the camera we have been able to share a unique insight into these creatures lives, from their taste for squirrels to the heartache of chicks dying.
"Whilst some viewings are not for the faint hearted, we have viewed chicks hatching to them taking their first practice flight."