Powys 'mega dairy' plan public inquiry comes to an end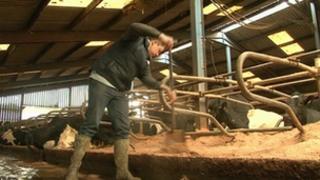 A public inquiry over a Powys farmer's plans to build a 1,000-cow dairy next to a village primary school has ended.
Fraser Jones wants to build one of the first "mega dairies" in Wales at his farm in Leighton, near Welshpool.
The eight-day inquiry has heard from Mr Jones and local residents who oppose his scheme.
A decision about whether the scheme should proceed is expected later this year.
The inspector holding the inquiry will submit her report to Welsh ministers within seven weeks.
The target then is for the Welsh government to issue its decision within 12 weeks of receiving the report.
The dairy plans include three large buildings, a fodder storage unit, two slurry stores and a water storage tower.
Visual impact
But villagers say the dairy will be too close to their homes and the school, and objections have been raised about noise, the smell, flies, pollution, increased traffic, the size of the development and its visual impact.
A local action group has been formed to oppose the development.
Mr Jones, who currently milks 300 cows, has said he has gone to great lengths to address concerns, and has included measures to monitor flies, the smell and animal welfare.
The government inspector visited the planned site in Leighton on Monday.
Mr Jones's proposal has also attracted criticism from the National Trust which is concerned about the visual impact on nearby Powis Castle.
In November 2011, Powys council's planning committee said it was minded to approve the dairy application subject to a report about "outstanding issues". It had been recommended for refusal.
But the matter was discussed again last October after changes in the council's constitution and committee membership, and it was rejected.
The Welsh government called in the application in January 2012 prompting the need for the public hearing.