Mid Wales Rape and Sexual Abuse Support Centre opens in Aberystwyth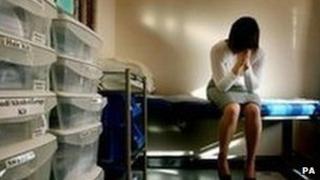 A new service in mid Wales supporting victims of rape and sexual assault has been launched in Aberystwyth.
The Mid Wales Rape and Sexual Abuse Support Centre is funded with money from the Ministry of Justice.
In 2010, the UK government set a target of establishing up to 15 new rape support centres by 2015.
The centre in Aberystwyth has been welcomed by the Police and Crime Commissioner for Dyfed-Powys Christopher Salmon.
He said: "Placing the needs of victims at the heart of the criminal justice system is fundamental to improving their experience and confidence in the process.
"The police service as a whole faces significant challenges to increase reporting of such crimes.
"We must balance the need for people to be innocent until proven guilty with the need to support and protect victims of such serious crimes."
The centre's manager in Aberystwyth Katryn Bennett said it was a vital service.
She said: "One-in-20 women (last year) experienced serious sexual violence last year and there has been no provision in mid Wales until now.
"I hope we can make a difference."
The UK government's Victims' Minister Helen Grant said she wanted more victims of rape or sexual assault to come forward and receive the specialist help they needed to recover from "these sickening crimes".
'Important'
"That's why we've ensured nearly £4m to support rape support centres over the next year," she added.
"With one in 20 women reporting they were the victim of a serious sexual offence last year, it is so important women and men are not left to suffer in silence.
"That's why I'm so pleased that the government is supporting a new centre in Aberystwyth to help victims of rape and sexual assault."
The centre's offices are in Great Darkgate Street in Aberystwyth.