Pontbren Farmers' Group environmental work praised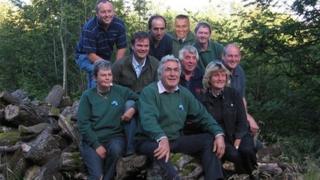 Hill farmers who planted 120,000 trees and shrubs, restored neglected woods and more than 10 miles (16km) of hedges have been thanked for their work.
Pontbren Farmers' Group, made up of 10 neighbouring farms near Llanfair Caereinion, Powys, have been working together since 2001.
One of the group's aims has been to improve shelter for livestock.
Environment Minister John Griffiths launched a report celebrating the farmers' achievements on Wednesday.
As well as planting trees and shrubs, the group has also created numerous ponds over the years, according to the Woodland Trust and Coed Cymru which have produced the report.
The land the group farms covers about 2,400 acres (1,000 hectares), of which nearly 5% is woodland, pond and hedgerow.
Heavy rain
By planting trees and restoring neglected woods and hedges, it allowed the farmers to have hardier breeds of sheep which are better suited to graze upland areas.
The Woodland Trust said the planting also had the unexpected benefit of reducing water run-off from grassland in heavy rain, and led to research and important new evidence of the role trees can play in flood control.
"The Pontbren project works because it has been led from the outset by farmers who were willing to take an innovative approach," said a trust spokesperson.
"If the lessons of Pontbren are heeded there could be a transformation in the way the uplands of Wales are farmed."
Another of the group's aims was to cut costs and make their farms more sustainable for the next generation of farmers.