Caersws: Transformed station wins Keep Wales Tidy award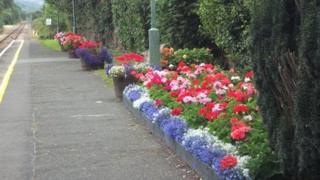 A community group which transformed a rundown railway station with a blooming garden display has won an award for its hard work.
Volunteers from Caersws community council in Powys spent hundreds of hours giving the town's unstaffed station a new lease of life.
Their efforts have been recognised by Keep Wales Tidy and it has been named Wales' best kept unstaffed station.
The volunteers said they planned to keep on improving the station.
Volunteer and Caersws community council member Linda Yapp said: "It's nice for the people walking off the train to see and they really appreciate it."
Mrs Yapp said the work started after Arriva Trains Wales emailed the council and asked if it was interested in "adopting" the unstaffed station.
She said: "It was a beautiful oldie-world little village railway station that was in need of a bit of love.
"We chewed it over and over, like community councils do, and set up a little group and got to work."
Weeds and shrubs were pulled up from flowerbeds and overgrown trees were hacked back.
Hundreds of dahlias, geraniums and bedding flowers were planted, walls were cleaned and painted, and the picture-perfect country railway station was revealed.
Mrs Yapp said: "We just keep at it as if it were our own garden.
"We've got plans for the future - we just want to keep making it better."
The annual award celebrates the achievements of volunteer community groups across Wales who help keep the countryside, coastline, towns, villages and cities litter-free.
The award, organised by Keep Wales Tidy, was presented to volunteers Linda and Vic Yapp and Andrew Wallbank in Cardiff Bay.
The volunteers donated the £250 prize money to charity.
David Crunkhorn, station manager for Cambrian Lines, said: "Stations are often a person's first impression of a place and it's clear that visitors to Caersws arriving by train are sure to have a positive one."