Military Cross: Ceredigion freedom for Matthew Wilson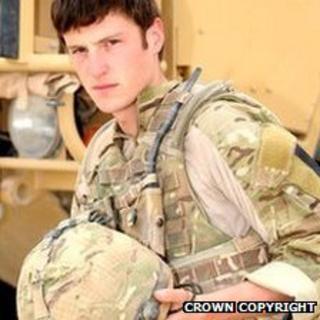 A soldier who received the Military Cross for bravery in Afghanistan has become the first person to be granted the freedom of Ceredigion.
L/Cpl Matthew Wilson, 21, from Penrhyncoch, Aberystwyth, was shot in the head as he ran to protect a colleague.
A member of 2 Rifles, he was knocked unconscious after an enemy bullet struck his helmet.
He was given the freedom of the county at a ceremony in Aberaeron.
The Military Cross is awarded in recognition of "exemplary gallantry" and is the third highest medal for bravery.
L/Cpl Wilson, who is based in Northern Ireland, was knocked unconscious for 30 seconds after he was shot.
He then decided to risk running across an open field to draw the insurgents' attention away from a rescue helicopter.
It happened during what was described as a "deadly game of cat and mouse" with an insurgent sniper during a reconnaissance mission in northern Helmand.