Horsemeat burger firm supplied by Farmbox claim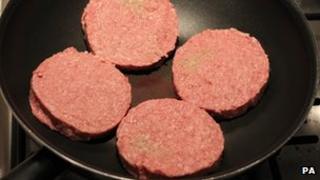 A burger company where samples have showed evidence of horsemeat says the meat was supplied by a firm which was raided by officials last week.
Three samples taken from the Burger Manufacturing Company (BMC), at Llanelwedd, Builth Wells, tested positive for horsemeat.
BMC has withdrawn the suspect products.
Two men at Farmbox Meats in Llandre, near Aberystwyth, are currently on bail after being arrested on suspicion of Fraud Act offences.
Speaking to BBC Wales, BMC director John Sparks explained that his company supplied fast food outlets.
"It's all coming from Farmbox Meats," he said. "It's not all beef, something else has been put in the boxes. A mixture of horse and beef was put in the box.
"We're the piggy in the middle. This is the first time this has happened in over 60-years in this business.
"We're a family business. We employ 80 people. All their jobs could be in jeopardy now."
BMC is the latest Welsh company forced to act over the horsemeat scandal.
Wales-wide testing
On Wednesday, Carmarthenshire firm Castell Howell Foods said it had contacted the five customers who received deliveries of a range of frozen cottage pies.
The Cross Hands company said it followed discussions with frozen ready meals supplier Oak Farm over the possibility of horsemeat contamination.
Oak Farm has launched an investigation, but also stressed that all tests for equine DNA on products to date have tested negative.
Across Wales, councils say they are taking steps to ensure horsemeat is not reaching schools, hospitals and homes.
A number of authorities, including Anglesey and Newport, have confirmed that several products have been withdrawn from school meals.
Last week three men arrested by Food Standard Agency officers investigating the horsemeat issue were released on bail.
Two men, aged 64 and 42, were arrested at Farmbox Meats Ltd, including one man believed to be the owner, Dafydd Raw-Rees.
Dyfed-Powys Police say the three men have been released on bail until April.
Mr Sparks, from BMC added: "Following rigorous tests by trading standards, environmental health, the Food Standards Agency (FSA), I can confirm that traces of horse meat have been found in some of our previous batches of burgers which are now being recalled and all customers affected have been contacted.
"Following a thorough investigation, we are confident that the meat can be traced back to our supply from Farmbox Meats Ltd.
"With immediate effect, we stopped using the supply to ensure that it did not enter any other products.
"This is an isolated incident. Our products regularly undergo rigorous tests from both and internal and external auditing procedure."
Powys council has confirmed that the three samples it tested at BMC were positive for at least 1% horsemeat.
Further work is being carried out to establish exactly how much horsemeat these products contain and to test for the presence of the veterinary medicine phenylbutazone, or bute.
Answering a question in the assembly on the latest developments, the deputy minister for agriculture, Alun Davies, added: "The burger company you refer to, of course, was a client of Farmbox, and as a consequence they, like all clients and customers of Farmbox, have been contacted and their meat is being seized and tested, and that process is ongoing.
"I've been in daily contact with the FSA over this period and I receive updates from the FSA on a regular basis on their investigations.
"The FSA have been following up the entire customer base from Farmbox in order to test all the meat that was supplied to those customers at that time, and that is part of this process."
BBC Wales has tried to contact Mr Raw-Rees but he was unavailable for comment.