Terry Hudson: Aberystwyth photographer missing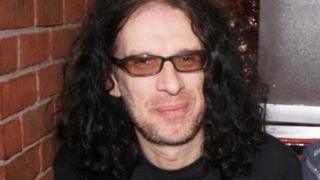 A search has been launched for a man missing from his home in Aberystwyth.
Terry Hudson, 48, a local photographer, has not been seen since Thursday.
Coastguard teams from Aberystwyth and nearby Borth started searching for Mr Hudson on Friday afternoon following a request from the police.
The search began again on Saturday morning in the area of Constitution Hill, while many of Mr Hudson's friends were out hunting for him on Friday night.
The coastguard said teams had been looking for Mr Hudson since 14:50 GMT on Friday.
They are being assisted by Aberystwyth inshore lifeboat on Saturday, while Brecon Mountain Rescue has been involved in the search on Friday and Saturday.
Mr Hudson, who friends say is also affectionately known as Pinky Marvin, is described as up to 5ft 11ins (1.8m) tall, slim, with shoulder-length black hair and wears glasses.
It is believed he has wearing a black coat over an orange cardigan when he went missing.
He is originally from Birmingham and has a Midlands accent but has lived in Aberystwyth for about 10 years.
One of Mr Hudson's friends, Tom Payne, said: "Different people in small parties have been searching along the coastal path, the rivers and the beaches in Aberystwyth for Terry.
"He left his property on foot and did not take his keys or his phone and left his dog in the house."
He said Mr Hudson's friends and family were worried and had started a Facebook site to help in the search for him.