Golfer Aled Bebb's two holes-in-one joy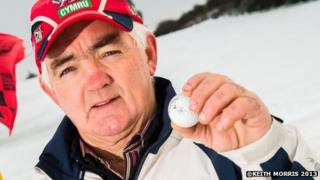 An amateur golfer is celebrating getting holes-in-one on two consecutive days.
Aled Bebb, 67, of Aberystwyth, had scored a hole-in-one a few years ago, but was thrilled to do the double.
Mr Bebb followed tradition and bought a round of clubhouse drinks after the first one - but joked that two days in a row was a stretch.
"It's basically an achievement, and I was happy to buy drinks for my friends," he added.
Mr Bebb has played golf for 20 years and knows that some players go a lifetime without getting a single hole-in-one.
"I always play golf on Tuesdays and Wednesdays and I'd got a hole-in-one on the Tuesday, and then I was lucky enough to do the same on the Wednesday," he told BBC Radio Wales.
"I got the drinks in as is tradition.
"But being a Cardi [from the old county of Cardiganshire] and having to buy drinks again on the second day takes it out of a person," he joked.