Bronglais Hospital asbestos: NHS acts after critical report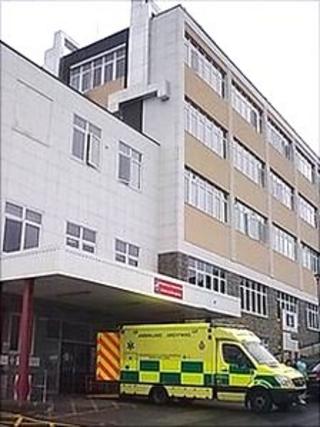 A number of recommendations have begun to be carried out after a critical review of the mismanagement of asbestos at a Ceredigion hospital.
The review followed revelations in August that up to 30 maintenance staff at Bronglais Hospital, Aberystwyth, could have been exposed to asbestos.
The independent reviewer, Dr Clive Grace, concluded there were "weaknesses in systems, behaviours and judgements".
NHS Wales says it has accepted all of the recommendations.
The review was commissioned by NHS Wales chief executive David Sissling, and its aim was to "identify the key events during 2004-2009 which led to the mismanagement of asbestos identified by the Health and Safety Executive [HSE] investigation.
"This includes the time period when the site was managed by the former Ceredigion and Mid Wales Trust, and Hywel Dda NHS Trust".
The review says the HSE investigated and in 2011 found that "in their view, the strategic management arrangements in operation at Bronglais Hospital in respect of health and safety were wholly ineffective".
The hospital is under the control of the Hywel Dda Health Board, but issues first arose in 2004, and the health body has been restructured since.
The report says: "These changes were in one sense beneficial, in that they led directly to the asbestos issues at Bronglais Hospital being identified and dealt with.
"However, they also complicated matters in that during the reorganisations there was no transfer of criminal liability from the predecessor to the successor bodies, and this inhibited HSE in the action they could eventually take."
Among his recommendations, Dr Grace calls for local health boards to "agree health and safety intervention plans with the Health and Safety Executive" and "respond to health and safety audits within agreed timescales".
Dr Grace said: "What was striking throughout the work of the review was the overwhelming sense of commitment which everyone had to helping find out what happened at Bronglais Hospital and helping to improve matters going forward."
NHS Wales chief executive David Sissling said the review had been thorough, adding: "I have accepted all of the recommendations made by Dr Grace which we have already begun to implement."