Centre for Alternative Technology cafe, food store shut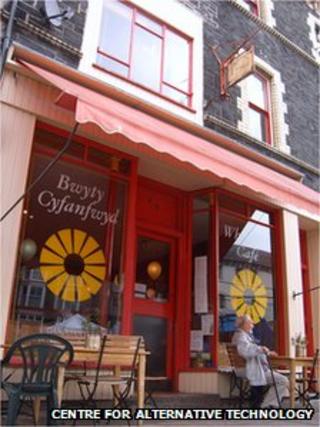 An eco-centre in Machynlleth, Powys, has closed its cafe and vegetarian food store because of financial difficulties facing its trading arm.
Eleven workers in the Centre for Alternative Technology (CAT) Quarry Cafe and Quarry Shop have lost their jobs.
The stores were run by by CAT plc, which also operates a shop and restaurant on its Dyfi Valley site.
A CAT spokeswoman said those ventures were not affected.
She said the cafe and shop a few doors away were closed on Friday because of financial difficulties facing CAT plc, which in turn were fuelled by the economic downturn.
The spokeswoman stressed that the separately run education charity responsible for charitable activities at the Pantperthog site, including a graduate school, visitor centre, schools visits and research projects, are not affected by the closures.
"The restaurant and shop on the charity site are operated by CAT plc, as is the cliff water-powered railway, but they are still functioning because of the number of visitors we have there."
She said the Quarry cafe and vegetarian food store in Machynlleth were "well-established, a very important part of the community.
"We're obviously very saddened for the staff who have been laid off. The directors of CAT plc will be discussing what happens next."
'Prominent position'
Eight of the staff affected worked in the cafe and three in the shop. The centre opened in 1973 and the cafe and shop began trading in 1979.
The former staff of the Quarry Shop have issued a statement saying they are planning to open a new wholefood shop as soon as possible, while the manager of the cafe has also said they are looking at running it as a going concern.
Machynlleth mayor Gareth Jones said the closure of the two businesses was "very unwelcome".
"Our thoughts are with everybody who has lost their work. Hopefully, somebody will come forward to take over this two empty premises which are in a prominent position in the town.
"The town has been through a desperately difficult time recently, and we want to have confidence and be able to move forward."
The Centre for Alternative Technology attracts about 50,000 visitors a year and employs about 120 full and part-time staff.
In June 2010, it opened its Wales Institute for Sustainable Education building, which includes a 200-seat circular lecture theatre.
Students can study courses about wind power, solar water heating and organic gardening there.