Powys council's £30m base budget warning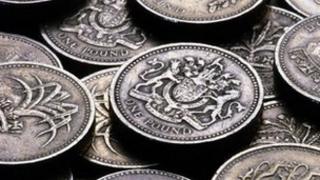 A council warns it is facing a £30m reduction in its base budget over the next three years after receiving the lowest funding increase in Wales.
Powys council says the 0.3% rise means it will have to make savings.
But the Welsh government said the settlement for councils in Wales was "better than they expected".
Last October the Welsh government announced a provisional funding increase of 0.15% for Powys.
Reacting to the decision to award the council a 0.3% funding increase, its leader David Jones said: "This will be at tough budget but the cabinet are determined to move to fair provision across Powys.
"We will be looking to make savings but the bulk of those will fall to making efficacies in the way the council is run."
'Household budgets'
A Welsh government spokeswoman said Local Government Minister Carl Sargeant acknowledged that in these challenging times protecting local services was never going to be easy and was likely to be more difficult in the future.
He said it was imperative that councils put themselves in the best position to face future challenges by working together.
The spokeswoman added: "The Local Government Minister Carl Sargeant has said very clearly that the settlement the Welsh government delivered to local authorities in Wales is better than they expected and better than in England.
"While the minister has powers to limit (an) individual authority's council tax rises if necessary, he expects authorities to act reasonably recognising the constraints that their residents are facing on their household budgets."