Powys school bus: Talgarth service to Gwernyfed returns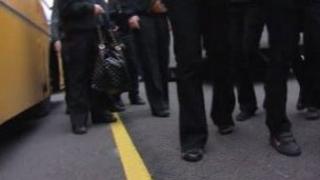 A bus service has been reinstated for more than 20 high school pupils after a campaign by parents.
Children from Talgarth, Powys, faced a near three-mile walk to school after they were told a smaller coach would serve the town under a new contract.
It meant that from 8 January 23 Gwernyfed High School pupils no longer qualified for the £95-a-term service.
But the coach operator has now agreed to provide a bigger bus, although the arrangement will be reviewed each term.
Those living more than three miles (5km) from the school qualify for a free bus, but those living less than that have to pay the £95 fee to use the bus.
Parents said Talgarth was right on the three-mile limit and some children travelled free, while about 23 had to pay. A further 12 to 15 children affected by the policy found their own way to school.
Parents had been told that under a new contract a smaller school bus would serve Talgarth from January, which meant there would be no room for the 23 fee-paying pupils.
Powys council informed parents of the decision in a letter last November and said the children could use a path to walk to school.
But parents formed an action group, Talgarth Bus Action Group (T-Bag), in an attempt to reverse the decision, and the 23 pupils started using the school bus again on Monday.
Flooded regularly
"From Tuesday to Friday last week, when children returned to school, we had to hire a minibus to get them to and from school," said Mrs Bowen.
"It's a great relief to parents that the bus operator has stepped in like this, but the operator can withdraw the bigger bus at any time."
Mrs Bowen said last month that she would not allow her 13-year-old son to walk the path to school because it flooded regularly and it was not lit.
In a letter to parents, Steve Holdaway, head of local and environmental services at Powys council, said: "As a result of the authority working in partnership with the local bus company involved, it has now been agreed that a larger capacity bus will be provided for both the morning and afternoon service between Talgarth and Gwernyfed High School.
"This additional seating capacity is being provided on a voluntary basis by the bus operator at no extra cost to the authority and can be withdrawn at any time."
Mid and West Wales AM and Powys county councillor William Powell called it a victory for common sense.