April Jones: Mum's birthday wish for her return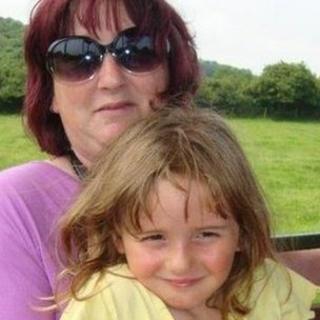 The mother of missing April Jones has issued a public plea for her return in time for family birthdays later this month.
The five-year-old was last seen near her home in Machynlleth on 1 October.
Her mother Coral posted a Facebook message saying: "Come home so my heart can be fixed."
Coral said she missed her "like hell" and wants her back in time for her 41st birthday, which is just before April's brother Harley turns 11.
"April where are you we need you back home with us," said her mother in a message on the Find April Jones web page.
She said she has April's Christmas present still waiting for her.
And she wants her home as "you love helping me wrap up Harley's presents" and "blowing out the candles with Harley".
She also recounts how April likes to go around the house popping the birthday balloons and concludes the message saying: "I miss you like hell".
April disappeared while playing on her bike outside the family home.
Her disappearance sparked one of the largest police searches in UK history and officers are still scouring the countryside around the town for her.
Mark Bridger, from Machynlleth, has been charged with April's murder.
The 47-year-old is also charged with attempting to pervert the course of justice which refers to the unlawful disposal and concealment of a body.
He is due to appear before Mold Crown Court on Monday for a plea hearing.