Victoria Hospital, Welshpool, new renal unit for kidney patients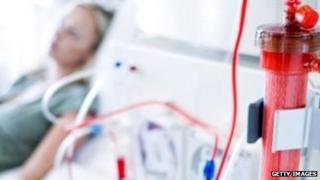 A new renal unit will allow patients in Powys to be treated closer to home and will transform their lives, says an MP.
The dialysis unit at Victoria Memorial Hospital in Welshpool has room for 12 patients and opened on Monday.
People with kidney problems in north Powys previously travelled long distances to Shrewsbury, Shropshire, and Wrexham for treatment.
The new unit was announced in 2009 and followed a 10-year campaign by the late kidney patient Trudy Baynes Hill.
Mrs Baynes Hill, from Aberhafesp, near Newtown, died in 2011.
Dialysis removes excess fluid, salt and wastes from failing kidneys, which builds up in bodies. The dialysis process, which can take up to eight hours a day, can leave the patient feeling tired.
The new service replaces a temporary satellite unit which was used as a stepping stone towards a permanent renal ward at the town's hospital.
Montgomeryshire MP and Kidney Foundation Wales patron Glyn Davies said it was fantastic news.
"It has two benefits. It increases capacity as it has 12 [dialysis] stations compared to the six in the old satellite unit and it means people can be treated closer to home," Mr Davies added.
'Real commitment'
"Patients have had to travel long distances three times a week and this can cause huge disruption to people's lives. The new unit will have a huge transformative effect."
Mr Davies paid tribute to the Welsh government's former health minister Edwina Hart, who "made a real commitment to renal dialysis" and gave the go-ahead for the unit.
"I must also pay tribute to Trudy Baynes Hill who was an effective campaigner, and it would have been great if she could have seen the unit opening," said Mr Davies.
Powys Teaching Local Health Board said there were currently 16 patients receiving dialysis three times a week in Welshpool.
A spokesman said patients and their families would be invited to a special open day on 30 January where they could meet the renal unit team and be shown around the facility.
A new renal unit opened at Llandrindod Wells hospital last year.