Ceredigion traffic wardens 'overzealous' claim as tickets treble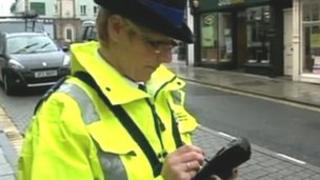 Traffic wardens in Ceredigion are accused of being "overzealous" after parking tickets more than trebled over a six-month period.
There were claims of parking chaos when the county had no wardens for a year after control for them switched from the police to the council in May 2011.
From 4 June to 30 November 2012 the new wardens handed out 4,653 tickets.
Ceredigion council said where appropriate its wardens used discretion.
The 4,653 tickets issued by the six new civil enforcement officers (CEOs) between June and November, compares to 1,367 handed out between April and October 2010 by the three wardens employed by the police.
From May 2011 to May 2012 there were no wardens patrolling the streets of Ceredigion, so a direct comparison figure for tickets issued in 2012 is not available.
Before CEOs started patrolling the streets on 4 June last year there were accusations of a parking "free-for-all", particularly in Aberystwyth, and business leaders complained trade was being hit.
Now business leaders in Aberystwyth and Cardigan claim trade is being hit once again, but this time by "overzealous" wardens.
Paul Oakley, vice-chairman of Cardigan Chamber of Commerce, claimed they were driving shoppers out of the town centre.
"It's draconian. There's no leniency," he said.
"All it's doing is driving people to the free supermarket car parks and out of the town centre.
"I understand parking has to be controlled, but this is unsympathetic and backward considering the economic climate."
Encourage shoppers
The treasurer of Aberystwyth Chamber of Commerce, Lynne Gardener said: "We were all very pleased to see the wardens return last year.
"Their presence has improved traffic flow and the parking problems we had, but it would appear they are being overzealous in what they do.
"We are a small community and we want to encourage people into the town to use local shops."
Of the 4,653 parking notices issued in Ceredigion between 4 June and 30 November last year, 3,179 were handed out in Aberystwyth, 784 in Cardigan, 225 in Aberaeron, 195 in Lampeter and 148 in New Quay.
The council said this generated £135,230 in fines.
It said 687 parking tickets were challenged by motorists, while 175 were eventually cancelled.
In response to criticism from the chamber of commerce officials, an authority spokesman said: "Penalty charge notices (PCNs) may only be issued when vehicles are parked in contravention of parking restrictions and, dependant on the nature of the offence, may be issued as an instant ticket or require a period of observation before they are issued.
"Where appropriate, civil enforcement officers use discretion, however the authority must operate a consistent approach to the enforcement of parking restrictions, and if a vehicle is parked in contravention it is liable to a PCN.
"In addition to the improvements seen to road safety, traffic flows and abuse of blue badge holder spaces, since the introduction of enforcement by CEOs, the turnover of free limited waiting spaces within town centres has improved.
"This has led to improved opportunities for drivers to find free short term parking in the town centres to visit shops and services where previously bays were occupied by vehicles parking all day."
The spokesman said loading bays, essential for delivery vehicles, were now "more readily available for their specific purpose".
The council said income from penalty charge notices was used to fund the parking enforcement service.