April Jones: Listening service launched after disappearance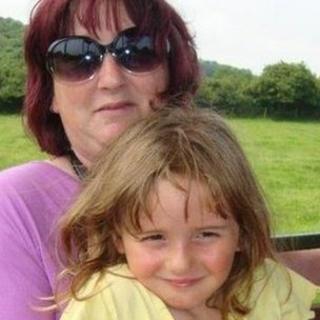 A free listening and counselling service for people affected by the disappearance of April Jones has been set up in her hometown in Powys.
The five-year-old was last seen near her home in Machynlleth on 1 October.
A telephone helpline and a drop in centre are being run by the Churches Counselling Service in Wales (CCSW).
CCSW director Dr Susan Dale, who lives in Machynlleth, said the majority of those seeking help so far had been young mothers.
A 47-year-old man has been charged with April's murder.
April disappeared while playing on her bike outside the family home.
Her disappearance sparked one of the largest police searches in UK history and officers are still scouring the countryside around the town for her.
Dr Dale said: "The community has been in shock. There is a sense of huge loss.
"There is still a huge police presence and no closure because April is still missing."
Dr Dale said she decided to set up the listening and counselling service in November after speaking to police welfare officers who have been helping those searching for April.
She set up a telephone helpline at the beginning of December and opened the drop in centre in Machynlleth's Penallt Street before Christmas, but said it was early days.
"We've had a broad spectrum of people seeking help from us," added Dr Dale, who is helped by two senior counsellors and 12 people with listening skills.
Army of volunteers
"The majority of people we've heard from so far have tended to be young mothers."
Dr Dale said discussions were confidential, but people had expressed shock about what had happened in the town and had shown concern for their own family.
Officers from all over the UK are helping in the hunt for April, including some from Staffordshire, West Yorkshire, Sussex, London and British Transport Police.
An army of volunteers also helped search for April in the days after disappearance.
Police are due to resume their hunt after a fortnight's break over Christmas.
The helpline is available on a Wednesday, Thursday and Friday on: 0845 603 5525, while the drop in centre at the Parish Hall in Penallt Street is open on a Wednesday and Saturday between 14:00 and 17:00 GMT.
Mark Bridger has been charged with murder, child abduction and perverting the course of justice. He has been remanded in custody.