Powys water: Homes affected after burst pipe in Llandinam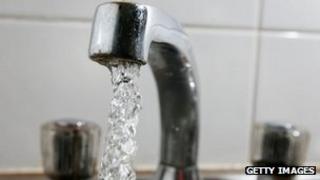 A water company is handing out bottles of water to residents in Powys after a burst pipe affected supplies.
Severn Trent customers in Llandinam, Caersws, Newtown and Llanidloes suffered problems on Saturday morning.
The majority had their water restored by the evening, but 200 properties had intermittent supply over the weekend.
Supplies have now been restored to all customers but concerns about quality mean some are using bottled water, while others are boiling their water.
Severn Trent said a large water pipe burst close to its Llandinam reservoir, near Newtown, on Saturday morning, leaving customers with either no water or poor pressure.
"We managed to bring water in from another network of pipes, which meant we could get the majority of customers' water supply back on by Saturday evening whilst we completed the repairs," a company spokeswoman said:
"However, approximately 200 properties did have intermittent water supply over the weekend.
"All of our customers' water supply is now back on.
"We would like to apologise to our customers who were affected over the weekend and assure them that we have worked around the clock over to resolve the problems in the area."
The spokeswoman said its staff had been checking the water quality in area to make sure that it was good enough to drink.
"There are some customers whose water hasn't returned to the quality we would normally expect," she added.
"Because of this, we wrote to all of those customers affected to ask them to bring tap water to the boil before it is used for drinking, for any food preparation, teeth cleaning or ice making as a precautionary measure.
Improved
"In addition we have provided bottled water daily to all customers affected.
"Water can still be used for bathing and showering, but they should take care when bathing young infants to avoid them ingesting the bathing water."
The Severn Trent spokeswoman said the firm was carrying out further tests and once the water quality has improved it would write to customers.
The company said customers affected by the problems would receive another update by letter on Monday evening, the firm said.