Wales honours: MP Roger Williams 'humbled' by CBE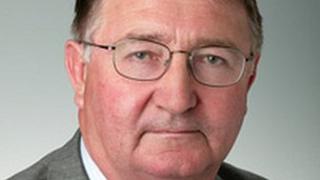 An MP and founder member of the former Social Democratic Party (SDP) has been awarded a CBE in the Queen's New Year Honours list.
Roger Williams, Liberal Democrat MP for Brecon and Radnorshire, said he was surprised and humbled by the honour.
Other mid Wales honours include British Empire Medals for Welshpool magistrate Peter England and Grenville Ham of the Green Valleys energy project.
Paralympic discus champion Josie Pearson from Hay-on-Wye gets an MBE.
Mr Williams was honoured for political and public service.
Born in Crickhowell, he was first elected as Brecon and Radnorshire MP in 2001.
Before that he was a farmer, and had been a Powys county councillor for two decades representing Talgarth, near Brecon.
The Cambridge graduate has also served as a chairman of the National Farmers' Union's Brecon and Radnorshire branch, and in 1990 he became chairman of Brecon Beacons National Park.
He also sat on the now defunct Development Board for Rural Wales from 1991 to 1999.
"I'm deeply honoured to receive this honour, but very surprised," said Mr Williams.
"I make a real effort never to be surprised by things in public life, but this was a huge surprise.
"It makes me feel very humble too because I think of all the people who make a huge contribution in my constituency whether they be in the public, private or voluntary sector.
"Sometimes these people are completely overlooked and they are deserving of awards, so I accept this on their behalf as much as anything."
Mr Williams left the Labour Party to join the newly formed SDP in 1981 and became one of its first councillors in Britain.
The SDP had been founded by four senior Labour politicians dubbed the "Gang of Four" - Roy Jenkins, David Owen, Bill Rodgers and Shirley Williams.
'Political greats'
"I was one of the founder members of the party," Mr Williams added.
"I liked their fresh approach and it was led by some political greats. Shirley Williams and Roy Jenkins were political heroes of mine."
The SDP merged with the Liberal Party in 1988 to form the Liberal Democrats.
Other political honours include OBEs for Rodney Berman, former Lib Dem leader of Cardiff council and Melvyn Nott, current Labour leader of Bridgend council.
Also honoured by the Queen is former magistrate Peter England, who is recognised with the British Empire Medal (BEM) for services to the community in Welshpool.
Grenville Ham also receives a BEM for services to renewable energy in Wales.
Mr Ham is the founder of Green Valleys project which supports the growth of renewable energy generation in the Brecon Beacons.
The Beacons project, made up of 21 small communities, develops micro-hydroelectric schemes.
Mr Ham has said the idea for the project was dreamed up over a pint in a pub.