April Jones: Mum's Facebook 'come home for Christmas' plea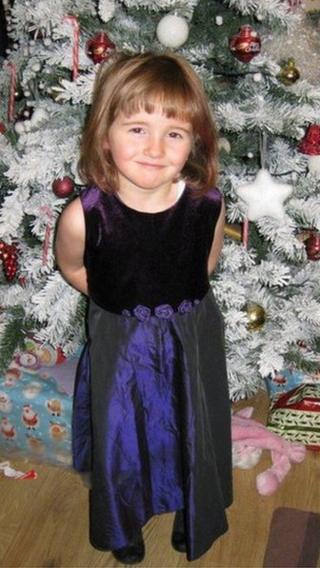 The mother of missing five-year-old April Jones has written her daughter a Facebook Christmas message, saying she misses her running around the house.
Coral Jones writes of her devastation at facing the festive period without April, who was last seen 11 weeks ago near her home in Machynlleth, Powys.
Mrs Jones says to her "baby April": "We just want you home for Christmas".
A 47-year-old man has been charged with her murder, while search teams are continuing to look for her body.
Mrs Jones, 40, wrote: "It's so hard you not here running around asking how long before Father Christmas is coming and you trying to open your present and try and help us wrap presents for family and friends... please come home".
April disappeared on 1 October while playing on her bike outside the family home.
Her disappearance sparked one of the largest police searches in UK history and officers are still scouring the countryside around the town for her.
Officers from all over the UK are helping, including some from Staffordshire, West Yorkshire, Sussex, London and British Transport Police.
They will take a fortnight's break over Christmas before returning to the hunt.
Pink bauble
Dyfed-Powys Police have been given a grant by the Home Office to help with the search, which currently has no end date.
The cost of the investigation into the five-year-old's disappearance is now expected to reach £2.4m.
April's family have asked well-wishers to decorate their trees with a tribute.
A family spokesman said: "We would like to request that everyone puts a pink Christmas bauble on their tree for April.
"The police are still searching and will be up to Christmas - they will then begin again in the new year.
"We have dog handlers involved and new search teams come in every weekend.
"I hope this reassures you all as we are reassured by the police teams involved in this investigation."
Mark Bridger has been remanded in custody, charged with murder, child abduction and perverting the course of justice.