John Beddoes School, Presteigne, in special measures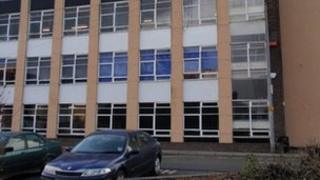 A Powys high school has been placed in special measures following a poor inspection.
Powys council said the report by Estyn into John Beddoes School in Presteigne was "very disappointing".
A team of school improvement officers will support the secondary school, and an action plan is being drawn up to address the problems.
The council said John Beddoes was the first high school in Powys to be placed in special measures.
The Estyn report follows a school inspection in October.
Powys council cabinet member for learning and leisure, Myfanwy Alexander said: "The report is very disappointing and is a matter of great concern for the whole school and the county council.
"The findings and its recommendations have been accepted by the head teacher, staff and governing body.
"Although very disappointing, the report is fair and will form the basis of a detailed action plan to address key areas requiring improvement."
Action plan
The team of school improvement officers includes officials from Ceredigion council, which is part of a Welsh government strategy for neighbouring councils to form closer ties.
Powys council said work had already started on the school action plan, and it would be submitted to Estyn for approval in the new year.
The authority said the school would face regular monitoring visits from inspectors until they were satisfied the special measures were no longer required.
"Providing quality education for all of our youngsters is absolutely vital and we are confident that with hard work and the co-operation of the school we can swiftly deliver the improvements demanded by Estyn," added Ms Alexander.
The school's chair of governors Steve Jones said: "The last two years have been challenging and difficult for everyone involved with the school.
"The governing body, along with the senior management team, were aware that there were improvements to be made."
Last month, school inspectors told Powys council to make "significant improvement" to its education service.
Estyn criticised performance and gave the authority 50 days to prepare an action plan.
It has been monitoring the council since February 2011 and a team of six inspectors carried out a follow-up visit last month.