Aberystwyth scientists to analyse mud found in Antarctic lake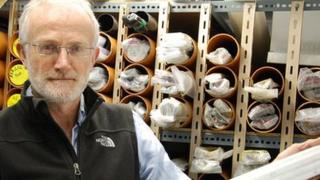 Scientists from Aberystwyth University hope to play a part in a project which is drilling two miles deep below the Antarctic ice for signs of life.
Experts hope to examine mud taken from Lake Ellsworth, which has been lost for hundreds of thousands of years.
Aberystwyth has developed an x-ray scanner to analyse sediment.
"It will be fascinating to see what we get from the Ellsworth sediment core," said Dr Henry Lamb, of the Institute of Geography and Earth Sciences.
The drilling on the West Antarctic Ice Sheet started earlier this week, involving British Antarctic Survey (BAS), National Oceanography Centre (NOC), backed by teams of scientists from eight British universities.
They are trying to find out if any form of life can survive in extreme conditions of pitch darkness and immense pressure under the ice.
The £8m project to investigate the lake involves using a hot-water drill, aiming for waters isolated for up to half a million years.
180,000 litres of snow has been melted and the water for the boilers filtered four times as part of the process, in which all equipment has to remain sterile.
The lake itself is about 14km long, 3km wide and 160m deep, about the size of Lake Windermere in the Lake District in Cumbria.
Water samples will be taken from the lake surface to the lake bed, and a core of mud from the lake floor over the next few days.
If successful, Dr Lamb hopes to be able to start analysis in January.
"Aberystwyth's X-ray fluorescence core scanner will show its geochemical composition in great detail," he said.
"By matching the sediments to what we know of the rocks beneath the ice sheet, we should be able to gain some insight into the history of ice formation and movement in this part of Antarctica."