St Giles Golf Club, Newtown: Members back course hotel plan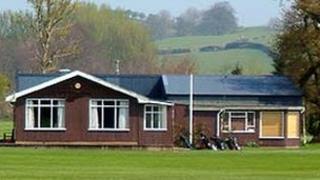 Plans for a hotel and pub on part of a Powys golf course have received overwhelming support from its members.
St Giles Golf Club in Newtown said developers wanted to build on the fifth hole of the nine-hole course.
The scheme is in the early stages, but as part of the deal the club said developers had agreed to build a new clubhouse.
St Giles, which has more than 250 members, said payment for a piece of building land would ease money worries.
Club officials said members gave a unanimous "in-principle approval" to the proposals at the annual meeting earlier this week.
As well as a new clubhouse, the existing course would be remodelled.
Bob Millard, chairman of the club's management committee, said: "The golf club has been in discussion with a company for sometime with a view to redevelop part of the golf course.
"Members were asked for their in-principle support at the AGM on Monday and unanimously approved proposals.
"Although discussions are at a very early stage the members' decision will allow negotiations to continue, hopefully to a successful conclusion.
"We are under no illusions that the proposals will take time to develop but they present a huge opportunity for the club."
The course is located between the A483 and the River Severn on the outskirts of Newtown.
'Economic boost'
The club was founded in 1895, but moved to its current location in 1908.
Mr Millard said like many clubs in the UK Newtown had found the recent economic conditions difficult and would not have the resources to build a new clubhouse without this development.
"If successful it will greatly improve facilities, provide financial stability with the added advantage of staying at our existing site," he added.
"It could also provide a useful economic boost for the town."