Newtown Market Hall: Restoration work delayed until new year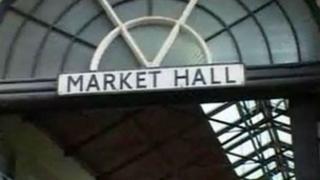 The revamp of a run-down Grade II-listed market hall in Powys has been delayed until the new year.
Newtown Market Hall was to have closed later this month to enable work to start, but the funding for the £3m project is not in place.
It is understood that work will now start in May next year.
The Heritage Lottery Fund awarded a grant of £790,300 to Mid Wales Food and Land Trust, which runs the 150-year-old building, earlier this year.
The trust has also received a grant from the Big Lottery Fund.
The market hall had been under the threat of closure until plans were drawn up to renovate it in 2009.
A year earlier the building's owners, Powys council, said it could no longer afford to maintain it.
Hundreds of people signed a petition calling for it to be kept open, and in 2009 the £3m plan was launched to save the market hall.
A Powys council spokesman said: "The closure has been postponed.
"We will continue to work with the Mid Wales Food and Land Trust to achieve the repair and refurbishment of Newtown Market Hall.
"While significant funding has already been raised by the trust, it does not yet have all the funding in place to begin work in January 2013 as originally planned.
"The council and trust have agreed that the Market Hall will remain open for business until May 2013."