Powys council issues 'drunk walking' advice for Christmas revellers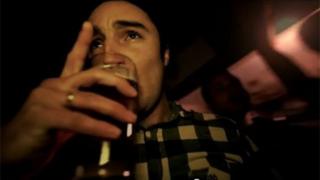 Powys council has issued safety advice to Christmas revellers which includes warning people about the danger of "drunk walking".
The council's road safety unit is behind a video campaign aimed at highlighting the dangers faced by drunk pedestrians in the road.
It is part of the unit's Fatal4Law campaign to reduce road accidents.
The film features a drunk man who is mown down by a van as he stands in the road after a night out.
Called Just a Regular Night Out?, it is being shown on YouTube.
The council said that "as well as the usual messages surrounding anti drink-driving, the council's road safety unit is reminding people drunk walking can also be a problem".
Cllr Barry Thomas, cabinet member responsible for road safety, added: "No one wants to spoil the fun over the Christmas period but consider how it would affect those around you if you were involved in a collision because of the way you were behaving when you were drunk."
Alyson Broome, the council's road safety project officer, said: "We want to remind everyone to enjoy and stay safe this Christmas and keep a look out for their mates on a night out to ensure everyone gets home safely."