St Winefride's Church, Aberystwyth, future uncertain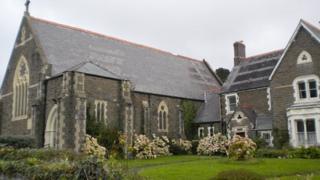 The future of a closed Victorian Catholic church in Aberystwyth appears uncertain again after an application to demolish it was withdrawn.
St Winefride's in Queens Road closed last month after plans to develop the site were submitted.
A group of worshippers had opposed the intention to build a new church in a less central location.
Ceredigion council said the application has now been withdrawn by the church in preference to seeing it refused.
A spokesman for the Diocese of Menevia said the people responsible for withdrawing the application would not be available for comment until the end of the week.
Ceredigion council confirmed the application was withdrawn last week.
Architectural merit
In a statement it said the applicants chose to do so rather than see the application refused.
The authority said it had requested for some time a more thorough report assessing the architectural merit of the church, its contribution to the conservation area, and options for preserving the building in full or in part.
If keeping the church was not possible, the council wanted to know how the proposed development would respect and contribute to the conservation area.
It added: "Although the authority has received some justification, it was largely centred on the need to raise finance to fund development elsewhere rather than the assessment the authority was looking for."
The council said it would encourage the applicants and their agent to enter dialogue before re-submitting the application.
Parishioners held a prayer vigil at St Winifride's before it closed last month.
The Bishop of Menevia, the Right Reverend Thomas Burns, had previously said he wanted to demolish St Winefride's in Aberystwyth on safety grounds.
He has told parishioners a report has found the church site, which includes a dilapidated parish hall and presbytery, not fit for purpose.
It would cost more than £2.6m to renovate the building, he has said, although objectors dispute this figure, saying a survey they commissioned put the figure at £625,000.