Lee Morgan: Man's airbrush exhibition after bike crash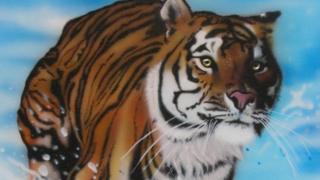 A man who turned to painting with an airbrush while recovering from a serious motorcycle crash is staging an exhibition of his work.
Lee Morgan, 36, is still recuperating after breaking his hand and injuring his back in a collision with a car near Aberystwyth in June last year.
The father-of-three, from Powys, uses a hand-operated compressor, or airbrush, to produce his paintings.
He turned to airbrushing when boredom set in while he was recuperating.
Mr Morgan, from Staylittle, near Machynlleth, has been painting and drawing since childhood, but had never used a airbrush before last year.
He said an airbrush could spray paint as fine as a hair or up to three inches (7.6cm) in diameter.
"I had my accident in June 2011 on the A44 near Ponterwyd," said Mr Morgan, who had to leave his job working with children because of his injuries.
"Straight after the accident I was put into a spine board. I stayed on this for 24 hours and I had several x-rays and a scan.
"I was told I was very lucky and I hadn't broken any bones in my back, but had broken two metacarpal bones in my left hand."
After three days in hospital in Aberystwyth he went home to recuperate.
"I am a busy person by nature so this drove me nuts, so I decided to spend my time researching artwork on the internet.
"I stumbled upon an airbrush website and thought it looked like a challenge."
Mr Morgan later bought an airbrush over the internet for £20.
"I know this sounds cocky, but when I started using the airbrush I knew straight away I had a talent for airbrushing. I just gelled with the airbrush and it felt natural," he added.
"One of my first proper paintings was the Splash Tiger.
"I was almost finished painting it when my then landlord visited and fell in love with the painting as soon as she saw it.
"She asked how much I wanted. I was a little taken back to be honest but suggested that a proper airbrush would set me back £200, so that's what she paid me."
Mr Morgan, who now plans to take up art full time, is exhibiting about 36 paintings at The Hafren, in Newtown, from Tuesday until the end of January.