Arthur Rowlands: Policeman blinded by gunman dies, 90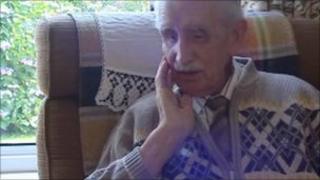 A policeman given the George Medal for bravery after being blinded by a gunman over 50 years ago has died, aged 90.
Arthur Rowlands was a 39-year-old constable when a burglar shot him in Machynlleth, Powys, in 1961.
He later worked as a voluntary police switchboard operator, and held positions with a society for blind people and a guide dogs organisation.
Mr Rowlands, who died at home in Caernarfon, had said he had long ago stopped feeling bitter to the culprit.
The night that changed Mr Rowlands' life was in August 1961 when he confronted Robert Boynton at about 3am on the banks of the river Dyfi.
Interviewed in 2011, Mr Rowlands said: "That person said to me 'you shouldn't have come - I'm gonna kill you'. I will always remember those words.
"I never thought that he would fire the gun, but he did, and that's how I lost my sight," he continued.
Boynton was later detained in Broadmoor and died in 1994.
Mr Rowland said last year that he would still encourage recruits to join the police, and added: "We need to help people to live as well as they can."
He had also taken an interest in the case of PC David Rathband, who was shot and blinded by gunman Raoul Moat in Northumberland in July 2010. PC Rathband died last February.
Mr Rowlands said all police officers knew the risks they faced: "I joined the force to do the job. You are there to find the guilty people who carry out those atrocious things."
In 1980 Mr Rowlands, a Welsh-speaking chapel elder, was invested into the Gorsedd at the National Eisteddfod.
A widower, he leaves a son and daughter, five grandchildren, a great-grandchild and two sisters.