Missing Owain Roberts: 'His coat still hangs where he left it'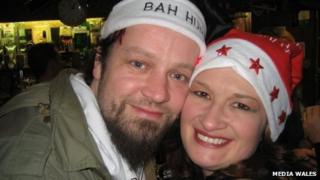 The girlfriend of a guitarist who disappeared nine months ago has spoken of her and his parents' agony that he is not back home for Christmas.
Owain Roberts, 36, from Cardigan, failed to meet his father in a nearby village in Ceredigion in March.
His coat still hangs at the end of the banister in his parents' house as if he has just returned home, says his girlfriend Lisa Head.
The Reverend Irfon Roberts and his wife Mair, simply cannot move it, she said.
On 10 March Owain sent a loving text to his girlfriend and has not been seen or heard from since.
"I had texted him that morning to ask where he was. What came back almost an hour later was a picture of Mwnt and a kiss," Lisa said.
Owain was due to meet his father, the Reverend Irfon Roberts, near a church in Mwnt, but failed to show up.
In the weeks that followed Lisa and Owain's family searched desperately for him.
"When you start looking for someone it's only then you realise what a big place the world is," Lisa said.
"Where do you start?
"And you're always looking for them, when you're in the car, shopping or just walking down the street. Always."
Mince pies
But as lines of inquiry ran cold, Lisa and Owain's family have been left in a state of limbo, but somehow have to move forward with their lives.
Owain and Lisa, 37, who has two daughters, Rebecca, 14, and Gemma, 12, had been together for three and a half years and should be spending this Christmas together.
"Last year we were on our own for Christmas Day. My girls were with their dad and we went to the Christmas service at Owain's dad's chapel, Capel Bethania," she said.
"After that we'd have mince pies with Owain's parents, then go for a walk along the beach."
But instead the day will be focused on Rebecca and Gemma.
Previously, Owain's family has been concerned he may have been suffering with depression but they have stressed that for him not to make contact was completely out of character.
A guitarist with local rock act The Reasoning, Owain worked at Theatr Mwldan in Cardigan.
'Horrendous'
"The police have not had much contact with us but there's nothing to tell," she said.
"They did give me a quick call when April Jones went missing. They wanted to see how we were all feeling and that they were still looking.
"Unfortunately, with no leads, they cannot follow anything up.
"It's very, very difficult, particularly for his parents. It is horrendous for them - it's hard enough for us.
"When you walk into his parents' house, his coat is still hanging at the end of the stairs."
Lisa and Owain's parents have all struggled to cope in the months since Owain disappeared.
Find identity
"Nothing will ever be normal again," Lisa said, who has spent much of that time searching for answers.
"I think that he's just had enough," she said.
"He was not feeling particularly well, as it's been said. I think he has made a decision that he does not want to carry on living the way he has been - living with his parents, wanting to find his own identity.
"I don't think he's thrown himself off a cliff.
"I think somebody picked him up that day, there's no explanation for him just vanishing.
"I don't know what made him go but something was triggered and he's gone to start again - but I don't know why he would do that."
Lisa admitted she felt "let down" that Owain did not talk to her about how he was feeling.
Reported sightings
"It's such a difficult thing to try and put into words. I just want him to tell somebody that he's ok - then we can deal with things.
"Sometimes I do feel really cross - why would he put people through this? This must've been his choice, he's made this decision"
There have been several reported sightings of Owain but they have all come to nothing.
There are currently 23 people reported missing in Wales.
Owain is 5ft 10in tall, of medium build, with blue-grey eyes.
When he disappeared he was wearing a black V-neck jumper and jeans. He was carrying a hooded top and rucksack.
His hair is short and grey on the sides, while his front-left tooth has a chip. He has four earrings in his left ear.
Dyfed-Powys Police want anyone with information to call them on 01267 222020.