April Jones: Pink Christmas star lit for missing girl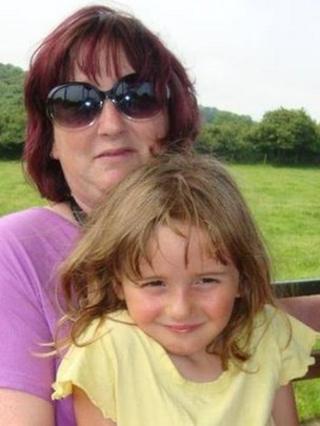 A pink star has been lit for missing five-year-old April Jones as part of her town's Christmas lights switch-on.
April was last seen near her home in Machynlleth, Powys, on 1 October and a man has been charged with her murder.
The one-metre star has been donated free of charge and went on with the rest of the lights at 16:00 GMT.
The star will stay lit each night during the festive period, but the other lights will be turned off overnight.
Machynlleth has been draped in pink since April's mother launched a ribbon appeal to support the search for her in the days after her disappearance.
April's pink star is positioned about halfway up the town's Maengwyn Street, and will be taken down in the second week of January with the rest of the town's lights.
A Machynlleth Rotary Club spokesman, which is responsible for the festive lights, said: "Putting up a pink star for April was just something we wanted to do.
"We didn't approach her parents, but we thought the pink star would be a way of remembering April over Christmas.
"The Christmas lights will be on a timer and will go off overnight, but the pink star will be kept on and will go off at about 5am or 6am."
The pink star was donated free of charge by a festive lights company in Kent.
On Saturday, the town council will switch the town's Christmas tree lights on.
Charity auction
Meanwhile a number of items will go under the hammer at a charity auction in aid of a fund set up in April's name on Friday night in Machynlleth.
Among the lots are a pair of designer shoes donated by the Hollywood actress Catherine Zeta Jones and a denim jacket donated by singer Bonnie Tyler.
Donations to April's Fund, which is being registered with the Charities Commission, have reached nearly £50,000.
The fund was set up by Machynlleth Town Council in October. It said at the time it was unclear what the money would be used for, but it would be for April's family to decide how it was spent.
The town's vicar, the Reverend Kath Rogers, who was recently appointed one of three fund trustees, said: "Until the fund is registered with the Charity Commission I can't say what the money will be spent on.
"It's unlikely it will become a charity before Christmas, but once we've sorted everything out we'll be able to sit down and talk about the future."
April went missing from near her home and, despite a massive search by police, specialist teams and hundreds of volunteers, no trace has yet been found.
Mark Bridger, 47, has been charged with murder, child abduction and perverting the course of justice.