Rhianna Thomas's growth is rare cancer Ewing's Sarcoma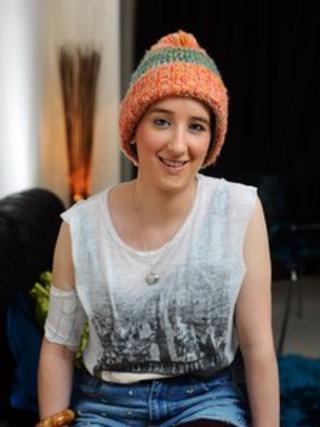 A 24-year-old woman is on the road to recovery after a suspected cyst removed from her head proved to be a rare form of bone cancer with only 30 cases in the world.
Shop assistant Rhianna Thomas, from Builth Wells, Powys, had surgery when the growth was the size of a golf ball.
The NHS paid for her to freeze nine of her eggs as infertility may be a side-effect of further cancer treatment.
She said: "The doctors really didn't think it was anything to worry about".
She found the lump on her scalp while washing her hair, and over the next seven months it continued to grow.
Doctors did not know what was causing the growth - "just a simple cyst to be removed," she said she was told.
When it was taken off, she was told it was a cluster of blood cells. But when she returned in August to have her stitches taken out she was told it was a very rare cancer called Ewing's Sarcoma.
She said: "I was washing my hair and I felt a small spot.
"At first I didn't think much about it but as the weeks passed I realised it was getting bigger and bigger.
"It wasn't painful - just a big soft squidgy lump on my head. Soon it was the size of a golf ball."
Ms Thomas had treatment to removed more cancer cells, requiring a skin graft from her leg.
Doctors have scheduled chemotherapy and radiotherapy sessions and say her prognosis is good.
She said: "I couldn't take it in because it was such a huge shock.
"Not knowing what was going to happen was pretty scary.
"I had to have part of my head shaved. I loved my hair and would spend hours straightening and going to the hairdressers having it coloured.
"But I knew losing my hair was the least of my worries. After the operation my head was bandaged up for a week so I couldn't see it.
"Thankfully the operation was successful and all the cancer was removed and the doctors were able to obtain a clear margin around where the cancer had been."
"The most important thing to me is keeping my sense of humour. I try to laugh a lot and stay positive.
"I am looking forward to Christmas and hopefully I will have a few new hats.
"I want to travel when my treatment is over and go to America."
Ms Thomas said she has been inspired by her father Gareth, 58, who has successfully battled throat cancer.
Her mother Diane, 54, has moved into her new flat in Birmingham, close to Queen Elizabeth Hospital, where she is having her treatment.