Recruitment drive for Bronglais Hospital ward after closure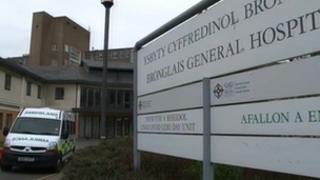 Health chiefs are about to launch a new drive to recruit staff for a hospital mental health ward after it shut due to staffing shortages.
Hywel Dda Health Board said a previous attempt to attract staff to Bronglais Hospital's Afallon ward in Aberystwyth had failed.
Ceredigion MP Mark Williams raised concerns about its continued closure after the ward shut earlier this year.
Some patients have been moved 50 miles (80km) to hospital in Carmarthen.
Mr Williams has written to Hywel Dda Health Board and the Welsh government insisting the closure of Afallon ward must not be permanent.
Hywel Dda said in July there were not enough qualified staff to provide "appropriate and safe care for patients on that ward".
Staff and consultants providing the service advised the board to shut the ward, it added.
Transport
In a statement, Hywel Dda said: "The health board developed and implemented a strategy to address the issue of attracting and retaining qualified staff to work in in-patient services in Aberystwyth.
"So far, unfortunately, this has been unsuccessful, and a further advert is being placed later this month."
Ceredigion MP Mr Williams has said some constituents are finding it difficult to make the long journey from Ceredigion to Glangwili Hospital in Carmarthen.
In response, the health board said: "The health board has also made arrangements to ensure that no patient or carer is disadvantaged by the interim transfer of the ward to Morlais ward, Glangwili.
"Health board-funded transport is available on request and the situation is monitored carefully and kept under review."
Earlier this year, hundreds of campaigners held a demonstration outside the Welsh assembly, prompted by fears that services could be moved from Bronglais.
But the health board has said the decision affecting Afallon ward is not part of the ongoing review of services.