Josie Pearson: Paralympic gold medallist's Powys council award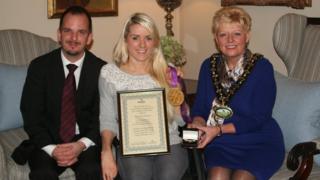 Paralympic discus gold medallist Josie Pearson has received a special award in recognition of her sporting achievement at London 2012.
Pearson, from Hay-on-Wye, Powys, broke the world record with a 6.8m throw during the games in September.
She was presented with Powys council's golden kite award by authority chair Susan McNicholas.
Pearson suffered spinal injuries in a car crash in 2003 which killed her boyfriend Daniel Evans.
Hundreds of people lined the streets of Hay-on-Wye to welcome Pearson home in September after she scooped gold in the discus.
She was presented with a Welsh gold bracelet by the community in honour of her achievements.
Pearson was appearing in her second Paralympic Games after playing wheelchair rugby in Beijing four years ago.
Car crash
She then focused on athletics, competing in wheelchair racing in the world championships last year before switching to discus.
Pearson, who was a keen horse rider, was 17 when she and four friends were involved in a car crash while on the way to Newport.
The car, being driven by her boyfriend, was involved in a head-on collision while overtaking and Pearson, who was not wearing a seat belt, broke her neck.
Other recipients of Powys council's golden kite award include actress Joanna Lumley, who was recognised last year for her work with Gurkha veterans.
The Gurkha Company (Mandalay) has been stationed in Brecon since 1974.