April Jones: Specialist teams search Dyfi and Tanycoed forests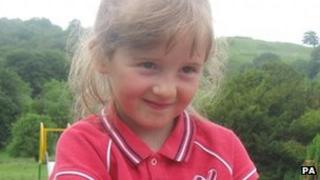 Specialist teams looking for the missing five-year-old April Jones are searching two forests in the Machynlleth area, police say.
April disappeared from a street near her home in the Powys town on 1 October.
The Dyfi and Tanycoed forests are the latest areas under scrutiny by 10 specialist teams.
Earlier this week the Duke of Cambridge thanked mountain rescue teams for their efforts in the search for April.
A Dyfed-Powys Police spokeswoman said: "The search continues utilising teams from across the UK.
"The numbers of teams and officers searching increase and decrease to meet demand and requirements for specific search areas.
"Currently we have 10 specialist teams searching Dyfi and Tanycoed forests.
"We will continue searching as long as we have viable lines of inquiry and it is unhelpful to speculate on how long that will take."
The Dyfi forest alone measures nearly 15,000 acres [6000ha], according to Forestry Commission Wales, and there are several old slate mines in the area.
The police spokeswoman said officers were "committed to doing all we can to bring the search operation to a successful conclusion".
She said the force was continuing to support April's family and was keeping the community informed.
April's disappearance prompted one of the biggest searches for a missing person in recent times, and involved hundreds of volunteers from the Machynlleth area, across Wales and parts of England.
More than 20 mountain rescue teams from Wales and England assisted police in the search. They were joined by firefighters, the coastguard and paramedics.
Last month Prime Minister David Cameron said the whole country was impressed with the way Machynlleth had coped with the disappearance of April.
Prince William, an RAF search and rescue helicopter pilot on Anglesey, wrote a letter to Mountain Rescue England and Wales praising the "extraordinary professionalism" of rescuers.
Mark Bridger, 47, has been charged with abduction and murder.