Great Oak Street, Llanidloes: One-way system scrapped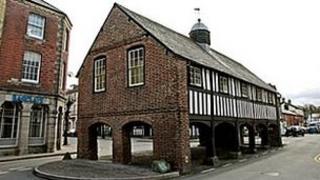 Plans for a one-way system to help protect a 17th Century market hall from passing lorries have been scrapped following opposition.
The Grade I-listed market hall, said to be the only one of its type left in Wales, stands at the bottom of Great Oak Street in Llanidloes.
The street is set for a make over, including new pavements and signs.
Part of the project included a one-way system, but Powys council said it had been dropped after local objections.
Work to lay new pavements and erect new signs in Great Oak Street is expected to start next spring and will cost £300,000, but there will be a meeting between the town and county council before the work starts to confirm the plans.
The market hall stands in the centre of Llanidloes and the road through the town narrows around the building. As a result it has been struck by passing vehicles a number of times.
The town council has been calling for better road signs for years aimed at diverting lorries along the town's bypass and away from the market hall.
A Powys council spokesman said: "The works provided an opportunity to look at integrating experimental alterations to the traffic management at the market hall to assist in reducing the likelihood of large HGVs causing damage to the listed building - a long-standing issue.
"The council had previously consulted on several proposals aimed at minimising the risks of damage in June 2011 and the solution favoured most by those had attended the consultation was no entry into Great Oak Street at the market hall junction.
"However, Llanidloes Town Council favoured an alternative solution of an enhanced signing directing HGVs along the bypass."
Powys council said given the mixed feelings, it considered making the eastern end of Great Oak Street at the market hall one way in a westerly direction.
'Absolute nonsense'
There was a consultation process in September.
"A number of representations were made during this consultation and officers attended a town council meeting where a number of local residents were present and it was made clear that they were against the experimental traffic order," Powys council's spokesman said.
"It has been agreed not to introduce the experimental order and the matter will be reported back to the Montgomeryshire committee in due course."
Llanidloes town councillor John Whittal-Williams said the idea that a one-way system could prevent lorries from striking the market hall was "absolute nonsense".
"It would have served no purpose, but common sense has prevailed," he added.