Bronglais Hospital: Cancer doctor in temporary move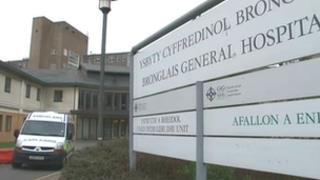 Cancer services at a hospital in Aberystwyth are not being cut despite an oncologist working in Carmarthen for one day a week, say health chiefs.
The oncologist at Bronglais is filling a vacant post at Glangwili Hospital while Hywel Dda Health Board recruits someone for the position.
The health board said outpatients at Bronglais would not have to travel to Carmarthen for treatment.
Ceredigion MP Mark Williams has written to the Welsh government on the issue.
He has also written to the health board's chief executive following complaints from constituents and hospital campaigners, the aBer group, who are fighting plans to protect services at Bronglais.
Hundreds of campaigners held a demonstration outside the Welsh assembly in February, prompted by fears that services could be moved elsewhere.
Concerns have also been raised by senior staff at Bronglais that services could be moved to Glangwili.
But the health board has said no decision has been made.
A Hywel Dda spokesperson said: "The oncology service at Bronglais Hospital has not been removed and no additional patients are being asked to transfer to Glangwili Hospital.
"One of our consultants normally based at Bronglais is supporting the service at Glangwili one day a week, allowing patients there access to his expertise.
"Patients who would normally be seen at Bronglais will continue to be seen at the hospital through a combination of means including access to other physicians.
"The situation will be reviewed in two months time when we will have recruited into a vacant post in Glangwili Hospital."
The spokesperson added that as a health board it had a responsibility to manage services to ensure patients across its area had access to the right level of care.
"As always, some patients may have to travel for some consultations with consultants, especially when suffering from rarer cancers, although we will do all we can to ensure that this is the exception rather than the rule," said the spokesperson.
The health board said it was committed to ensuring that cancer patients received chemotherapy in the most locally available unit.
'Vacant post'
But Mr Williams claimed the oncologist's relocation for one day a week had happened without any prior warning or announcement to the public.
A Welsh government spokesman said Health Minister Lesley Griffiths had not received Mr Williams's letter yet but would respond when it arrived.
"The health board has told us that one of their Bronglais Hospital-based consultants is supporting Glangwili Hospital one day a week while they recruit to a vacant post and we have been assured that this will not affect patients seen at Bronglais Hospital," said the spokesman.