April Jones: Prince William thanks mountain rescuers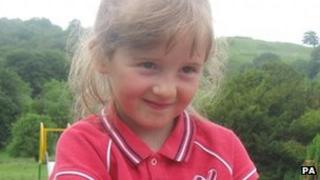 The Duke of Cambridge has thanked mountain rescue teams for their efforts in the search for missing mid Wales five-year-old April Jones.
In a letter to Mountain Rescue England and Wales, Prince William praised the "extraordinary professionalism" of rescuers who turned out in Machynlleth.
The prince is an RAF search and rescue helicopter pilot on Anglesey.
The hunt continues for April, who went missing on 1 October. Mark Bridger, 47, is charged with abduction and murder.
In a letter signed William, the prince wrote: "I am time and again made to feel so proud and so humbled by our rescue teams - the lengths you go in your work, your commitment and dedication to the job, and your extraordinary professionalism.
"This was as evident as ever in the recent search for little April Jones, who was so awfully taken away from her family.
"These high profile cases are just a reminder to us all of what the mountain rescue teams do day in, day out.
"I am sure that the search for April must have been the hardest of its kind.
"I know that you did everything in your power to find her.
"I cannot commend you highly enough for your unbelievable perseverance, grit and sheer hard work - we are all so lucky to have people like you in our communities."
The prince has had a close relationship with mountain rescue teams across Britain, both as a helicopter pilot, and as the royal patron of the Mountain Rescue England and Wales charity.
More than 20 mountain rescue volunteer teams assisted police in the search for April, both from Wales and England.
Dion Jones, one of the call-out co-ordinators with the Aberglaslyn Mountain Rescue Team, said the letter was very much appreciated.
"It's a privilege when someone so important looks at what we do and realises the dedication and commitment involved," he said.
"It was a very difficult situation and I estimated that we put in about 600 man-hours from the Tuesday night until the following Sunday.
"Some of the lads took time off work so they could take part in the search," he added.