Sherlock Holmes: Deerstalkers of Welshpool's translation hope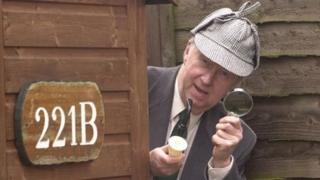 Sir Arthur Conan Doyle's books about Sherlock Holmes have been translated into 98 languages down the years.
Now, 125 years after the author introduced Holmes to the world, his fans in Powys hope to turn one of his 56 short stories into Welsh.
The Deerstalkers of Welshpool, a Welsh Sherlock Holmes society with 20 members, aims to translate The Adventure of the Speckled Band.
So what would that become in Welsh? It's elementary: Antur y Rhuban Brith.
The founder of the Holmes group in Welshpool, Roy Upton-Holder, 82, an enthusiast of Conan Doyle's books for 60 years, is not deterred, despite one Welsh language publisher's warning of high cost and low demand.
Mr Upton-Holder's devotion is such that it has led to him calling his house Baskerville after the detective's most famous case, and his pet cat Mycroft, in honour of Holmes's brother.
Even his garden shed has a link to the fictional detective and is known as 221B after Sherlock's London address.
He said the Adventure of the Speckled Band was one of Conan Doyle's favourite books, telling the story of a greedy stepfather who murders one of his stepdaughters.
Mr Upton-Holder said it was written for commuters and designed to be read in about 30 minutes, and was first published in the Strand Magazine in 1892.
He said he had been thinking about translating a Holmes story into Welsh for some time.
"Then I had an email from a Sherlock Holmes fan in Texas who is a member of the Baker Street Irregulars, the largest Holmes society in the USA," Mr Upton-Holder said.
"He asked if we were thinking about translating a book into Welsh and why didn't we do something about it.
"He said he'd give us $100 towards it.
"Since then I've contacted Aberystwyth University to see if someone there could help with the translating and we've thought about asking Welsh A-level students if they'd like to take on the translating as a school project.
"One of our members has recently retired from the National Library of Wales in Aberystwyth and he speaks Welsh, so he could help check the pupils' work.
"We need to work out the translation costs and find someone who will publish the finished version for us."
Mr Upton-Holder explained his fascination with the super sleuth.
"The books are so realistic and they're not all about murders. Some are about greed which is still relevant today," he said.
'High standard'
"Conan Doyle gave Holmes a back story and you knew about his family, even his family tree."
The Deerstalkers of Welshpool was founded in 2001, and Mr Upton-Holder said there were around 400 such groups worldwide.
But one publisher of Welsh language books was not sure if Holmes would sell in Welsh.
Levy Gruffudd, general editor at Y Lolfa near Aberystwyth, said: "Harry Potter books have been turned into Welsh. It was a success, but I'm not sure how many copies were sold.
"I don't think there would be a massive demand [for Holmes]. Most people would be interested in reading the original in English.
"It would be feasible to translate a book, but the costs would be very high. It might even be in the thousands of pounds, depending on the number of pages.
"It's quite specialised work because the translating and writing would have to be to a high standard."