Harry Tuffins: Midcounties Co-op may sell four stores after OFT probe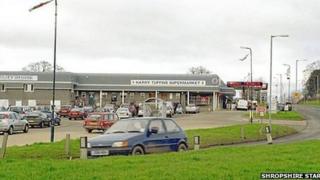 A supermarket chain which bought 10 stores from a smaller rival has offered to sell four after an investigation by the Office of Fair Trading (OFT).
Nearly 450 jobs were saved at Powys-based Harry Tuffins when its stores were bought by The Midcounties Co-operative, which has over 470 branches.
But following an inquiry the OFT said it feared the deal would increase prices and reduce choice.
It said it was considering Midcounties' offer to sell four stores.
The Midcounties Co-Op, which is based in Warwickshire and employs more than 8,500 staff, has other stores in Oxfordshire, Gloucestershire, Wiltshire, Shropshire, the West Midlands and Worcestershire.
It has been asked to comment.
The deal to buy Tuffins' 10 stores in Powys, Flintshire, Gloucestershire and Shropshire went through on 30 April.
An OFT spokesman said: "The OFT has announced that it is considering whether to accept remedies offered by Midcounties Co-operative Limited to address the competition concerns arising from its completed acquisition of Tuffin Investments Limited, the grocery and fuel retailing business of Harry Tuffin Limited.
"The OFT's investigation found that the merger would create competition concerns in the retailing of groceries in four local areas.
'Important service'
"To resolve the competition concerns identified by the OFT in all four areas, Midcounties has offered to sell four grocery stores, two of which include petrol stations."
During its investigation, the OFT said it took into account whether there were barriers preventing new convenience stores from entering local markets.
The OFT concluded that "without clear evidence of entry relating to a local area, it could not consider entry by new convenience store competitors to be timely, likely and sufficient".
Amelia Fletcher, chief economist at the OFT and decision maker in this case, said: "The OFT considers that the retail supply of groceries is an important service to a local area, and this was evident from the number of third party comments received on this merger.
"The OFT is concerned that customers in the local areas identified would face an increase in prices and a reduction in choice, and we are therefore considering the divestments offered by Midcounties to resolve these issues."