Bronglais Hospital: Dirt, dust and clutter found on ward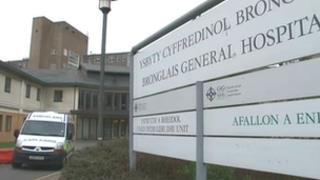 A hospital has been criticised by a health watchdog after a ward was found to contain dirt, dust and clutter.
The spot check at Aberystwyth's Bronglais Hospital was carried out by Healthcare Inspectorate Wales (HIW).
It also found some patients on two wards had not been assessed or did not have individual care plans.
Hywel Dda Health Board said it had taken immediate action to resolve the issues and was continually monitoring and making improvements.
HIW said its dignity and essential care inspection in June found that, overall, staff on both Iorwerth and Ceredig wards demonstrated a sensitive and professional attitude towards patients.
It said its inspectors observed staff, especially health care support workers, providing care to patients in a "very compassionate manner".
"The patients we spoke to on both wards were also very positive about staff attitude and behaviour towards them," said a HIW report.
But there was a question over cleanliness on Iorwerth ward.
The HIW report added: "However, our inspection highlighted a number of areas for improvement including the cleanliness of Iorwerth ward as clutter was evident throughout the ward.
"There was also dirt and dust noted on floors, walls and doors on the ward."
Caroline Oakley, director of nursing and midwifery at Bronglais Hospital, said: "Our health board strives to treat each and every individual with dignity and respect.
"It is heartening that Healthcare Inspectorate Wales found that overall our staff were sensitive, professional and compassionate, and that patient feedback was very positive.
"We are disappointed and apologise that some of the high standards we set ourselves in other areas were demonstrated to be lacking during this inspection.
"We have taken immediate action to resolve these issues and are monitoring and making further improvements on an ongoing basis."