School closures: Ceredigion in new primary review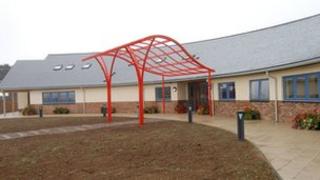 Twenty-three primary schools in Ceredigion with fewer than 50 pupils could be under threat after plans were unveiled for a review.
Previously the council has only looked at schools with fewer than 30 children, resulting in a series of closures.
But the education department was asked to review its policies following council elections earlier this year as it tries to cope with falling rolls.
Its recommendation is set to go before the council cabinet later this year.
The department's plans have already gone before a scrutiny committee which changed the "trigger point" for a review from 30 to 50 pupils.
The move follows the closure of a number of small schools in the county in recent years.
In September, the new £5m Ysgol T Llew Jones in Brynhoffnant, near Llandysul, was the second area school to be built in Ceredigion over the last three years.
It replaced primary schools at nearby Blaenporth, Glynarthen, Rhydlewis and Pontgarreg.
Trigger point
A council spokesperson said: "Following the appointment of a new council leader, the department was instructed to hold a review of current policies and strategies.
"The purpose of this review was to ensure the current direction of travel was still fit for purpose for the coming five year period.
"The report was presented to the scrutiny committee for consideration before final recommendations are made to Ceredigion's cabinet later this year."
The spokesperson said the scrutiny committee had accepted the report but offered some amendments, including a change to the "trigger point" for review from 30 pupils to 50 pupils.
The spokesperson claimed this had been recommended with a view to reducing the risk of closure to smaller schools.
The council said no schools were currently under review and would not be reviewed unless the recommendations were agreed by cabinet.
Pupil numbers have fallen in Ceredigion in the last 10 years from 10,695 in 2001 to 9,655 in January this year.
There are 54 primary schools in the county and seven secondary.
The council said there were 1,436 empty spaces in the primary sector.