St Winefride's Aberystwyth: Vatican appeal plan over closure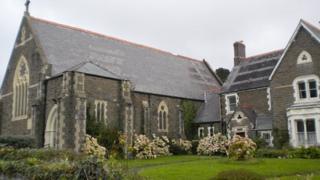 Protesters holding a prayer vigil at a Catholic church which is shutting on safety grounds say they could take their campaign to the Vatican.
They are planning an appeal to the congregation for the clergy - a committee which advises the Pope - to save St Winefride's in Aberystwyth.
Worshippers attended a final service on Sunday but plan to stay until its doors shut for good on Thursday.
The local bishop claims the Pope's UK envoy says it is a diocesan matter.
The Bishop of Menevia, the Right Reverend Thomas Burns, wants to demolish St Winefride's. He plans to sell the land for housing and build a new place of worship on the outskirts of Aberystwyth in Penparcau.
But objectors say moving the church away will make it difficult for many worshippers to attend services.
St Winefride's is set to close on Thursday when its insurance cover ends.
Bishop Burns says the church in unsafe.
Parishioner Michael Maloney, who fighting the closure, said: "People don't want to abandon the church here. It's been here for 130 years or more.
"There are possible options of appeal to the congregation for the clergy in Rome. We may take that option.
"We'll obviously explore anything we can do to try and get the bishop to rethink this matter.
"We certainly have grounds for appealing and we may decide to do that."
In response to the prayer vigil at St Winefride's and the appeal to the Vatican, Bishop Burns said: "Any prayers for a satisfactory outcome in the present situation will be always welcome.
"A satisfactory outcome would be that Ceredigion council approves the planning application (for the existing church site to be developed) on 14 November, so releasing funds for a new church, presbytery and hall in Aberystwyth.
"The papal nuncio [envoy] has twice said in recent communications that this is a matter for the local diocese and not a matter for him."
An structural survey by the diocese shows the church site in Queen's Road, which includes a dilapidated parish hall and presbytery, is not fit for purpose.
It would cost more than £2.6m to renovate the building, he has said, although objectors dispute this figure, saying a survey they commissioned put the figure at £625,000.
The objectors said the closure would force more than 340 regular Mass goers to attend services at a temporary venue until proposals for a new church are realised.