Extra £440,000 for Ceredigion flooding defence repairs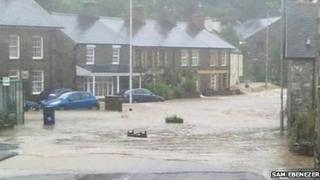 Flood defence repair work in Ceredigion after devastating summer flooding is being boosted with an extra £440,000, the Welsh government has announced.
Rivers burst their banks and overtopped defences after exceptional rainfall hit the Aberystwyth area in June.
Environment Minister John Griffiths said the money was to repair defences, remove debris and reinstating rivers to their original channels.
Climate experts have warned Wales will face flooding more often in the future.
About 1,000 people had to leave their homes and 126 properties and 200 holiday park caravans were damaged when floodwater flowed along roads, through communities and across agricultural land in June.
June was the wettest month in what became the wettest summer Wales since records began in 1910, according to the Met Office.
Mr Griffiths said: "Aberystwyth was particularly badly hit and experienced a month's rainfall in less than a 24-hour period.
"As we know only too well this resulted in one of the worst flooding events that Wales has seen in a number of years.
"I visited the area at the time of the floods and saw for myself the damage and devastation that had been caused by this freak weather event.
'Extreme weather patterns'
"I was one of many impressed by the strong community spirit evident in the clean-up operation."
Villages including Talybont, Dol-y-bont, Penrhyncoch and Llandre were hit, as well as areas of Aberystwyth.
Mr Griffiths said the extra cash would "repair crucial flood defences that will help to protect the area from future heavy rainfall".
Last week world-renowned climatologist Sir John Houghton warned that extreme weather patterns are here to stay, and the risk of flooding will rise.
One in five or 600,000 people live in flood risk areas in Wales.