St Winefride parishioners, Aberystwyth, hold prayer vigil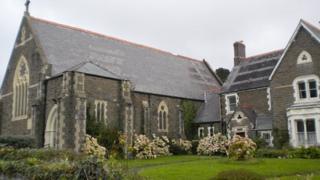 Parishioners are staying on for a prayer vigil at a Catholic church in Aberystwyth until its insurance cover runs out later this week.
Worshippers attended a final service at St Winefride's but plan to stay until its doors shut for good.
Spokesman Lucy Huws, said: "People are incredibly sad they can't come to the church again, particularly as they feel there's nothing wrong with it."
The Diocese of Menevia is closing the church amid housing plans for the site.
The Bishop of Menevia, the Right Reverend Thomas Burns, wants to demolish St Winefride's in Aberystwyth on safety grounds.
He has told parishioners a report has found the church site in Queen's Road, which includes a dilapidated parish hall and presbytery, not fit for purpose.
It would cost more than £2.6m to renovate the building, he has said, although objectors dispute this figure, saying a survey they commissioned put the figure at £625,000.
The church was packed for its final service at 11:00 GMT on Sunday.
Objectors to the closure plan say it will force more than 340 regular Mass goers to attend temporary accommodation until proposals for a new church on the outskirts of Aberystwyth are realised.
The church's insurance cover ends on 1 November.
Bishop Burns, who is based in Swansea, has told parishioners that the church's insurers had assessed the risk of injury from the use of the church or the presbytery as "very high".
Ms Huws said the Mass was attended by a range of people from a families with children to the organist who has played at the church for 60 years.
'Very suspicious'
She said: "It was very emotional. People are incredibly upset, not just over the church but over the way we have been treated.
"Most people feel that diocese has no reason to close the church and they are very doubtful about why the insurance policy has not been renewed.
"They are very suspicious of the whole thing."
Ms Huws said the congregation had drawn up a rota to maintain a presence at the church overnight and they planned to stay until they have to leave.
She said: "It's really a time of praying for the parish and future of the church in Aberystwyth because the diocese has let us down."
Our Lady of the Angels and St Winefride's was built in 1874 and is said to have a congregation of about 300 for three Sunday services.