Mid Wales Hospital, Talgarth: Planners reject demolition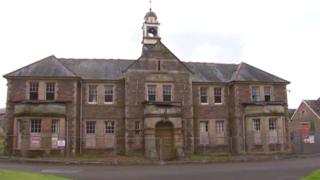 A proposal to demolish an old psychiatric hospital in the Brecon Beacons and build houses on the site has been rejected by planners.
The former Mid Wales Hospital at Talgarth closed in 1999 and is in a poor state of repair inside.
Collins Developments wanted to knock most of the site down and build 100 homes and a care home.
Local opponents said the scheme was too big and they wanted to preserve the buildings in any future redevelopment.
A spokesman for Brecon Beacons National Park Authority, said: "Following a site visit to the former Mid Wales Hospital site, members of the planning, access and rights of way committee have unanimously supported the planning officer's recommendation to refuse this application."
Developer Phil Collins said there was asbestos throughout the building and the only way to get at some of the underfloor segments to remove it was to knock the buildings down.
"Whilst it has a lot of affinity with the past I think its days are now over as a hospital for Talgarth. What I liked about it was the stone structures the front building has, a beautiful building [which] has the potential to be turned back into four very attractive apartments.
"But the ward buildings sadly are prison-type buildings and totally unsuitable for residential layout, in our view," he told BBC Wales.
He said he sympathised with the people who wanted to preserve heritage sites, adding: "As a principle, I'm entirely supportive. But here it's just inappropriate, far too expensive."
Mr Collins said the houses would be built using the bricks from the demolished hospital buildings.
However, Niel Bally, a local councillor who lives near the hospital, opposed the plan.
"It's part of Talgarth's identity and it's also a very rare and fine set of buildings. Some people may think it's ugly but when you look at the plans and the echelon shape which is the footprint it's very rare, and should be preserved and respected," he said.
Historian Mark Davies called the old structures a testament to the thousands of patients housed there.
"Life for these people was pretty austere; taken away from their families put in some cases 50, 60, 70 bed wards, remaining for over two years, classed as chronically ill and spending decades on the wards of this hospital," he said.