April Jones: Machynlleth town clock lit in pink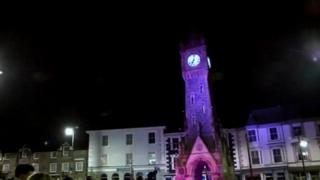 Hundreds of people have turned out to see a town clock lit up in pink to mark the third week since the disappearance of April Jones.
The five-year-old was last seen in a street near her home in Machynlleth, Powys, on 1 October.
The town centre clock is being lit for 12 hours on Monday from 19:00 BST, the time April went missing.
Machynlleth has been draped in pink since her mother launched a ribbon appeal to support the search for her.
To mark a week since her disappearance earlier this month her parents released a sky lantern, while others in the town released pink balloons.
In Blackpool, the seaside tower was also lit up in pink.
Machynlleth mayor Gareth Jones said: "The town council owns the clock and we were asked if it could be lit up in pink to mark the third week of April's disappearance and we readily agreed.
He added: "Three weeks on we still don't know what the outcome will be.
"People are trying to get back to some sort of normality, but we still have hope and we must hold onto that."
Councillor Michael Williams said the gesture showed the country the "ongoing love there will always be for April and her family".
"It's the community again coming together to show its strength... it is holding tight, it will not break," he added.
April's disappearance has prompted one of the biggest searches for a missing person in recent times, and involved hundreds of volunteers from the Machynlleth area, across Wales and parts of England.
Hundreds of trained search and rescue staff from the police, the fire service, mountain rescue teams and the coastguard have also been involved as the search continues.
Last week, Prime Minister David Cameron said the UK was impressed with the way Machynlleth had coped with the disappearance of April.
Speaking during Prime Minister's Questions, he said the country had been shocked and appalled by the events in the town.
The Wales and Scotland football teams also wore pink ribbons in support ahead of a World Cup qualifier in Cardiff on 12 October.
Mark Bridger, 46, from Machynlleth, has been charged with abducting and murdering April, and of unlawfully disposing of and concealing her body with intent to pervert the course of justice.
He is due to reappear in court on 11 January.