Coffee shop culture rises as a Aberystwyth uni bar shuts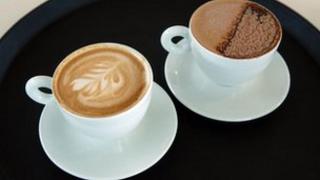 A student bar at Aberystwyth University has closed due to falling alcohol sales, as coffee shop culture becomes increasingly common on campuses.
The National Union of Students (NUS) Wales reports a rise in the number of on-site coffee bars in recent years.
Glyndwr University shut its union bar and moved it last summer and Cardiff Met chose a coffee bar franchise.
The Aberystwyth student president said many fewer students were out at night with money tighter.
Ben Meakin said a surplus made by the university bar had dropped significantly.
He said with the rise in tuition fees and students having to face further financial hardship, more were drinking coffee during the day while studying, and fewer were going out later.
Mr Meakin also said the Aberystwyth bar, Cwrt Mawr, was looking "tired and in need of refurbishment".
Another student union bar, the main one on the university's Penglais campus, remains open.
He said a makeover of Cwrt Mawr was estimated to cost £30,000 minimum "with no assurances that the union could secure a return on its investment".
'Promising prospect'
So it has decided to invest money improving the main union building to make it a more "appealing living room on campus during the day" and providing a wider choice of food and drink.
In March, the NUS published a report for student unions to consider about making improvements to services in the student market.
It said there had been a decline in the popularity of student union bars in favour of privately-run pubs, clubs and bars.
But it also highlighted coffee shops as a "promising prospect", adding that in order to increase sales of non-alcoholic drinks, students' unions would need to embrace the whole "coffee experience".
This summer Glyndwr University Student Union bar closed and relocated to the nearby Centenary Club, which is part of Wrexham FC's Racecourse Stadium and now owned by the university.
Cardiff Met Students' Union president Ruth Foster said it has a number of food and drinks facilities on campuses for students, but that it does not try to compete with clubs and bars in the city.
Among some of its facilities, it runs a Starbucks coffee shop with others also available on campuses.
At Aberystwyth University, Cwrt Mawr is now due to undergo a refurbishment.
Plans include a 24-hour accessible learning centre as well as a "one stop shop for all their accommodation needs", said a spokesperson.